Originally published in The Santa Barbara Independent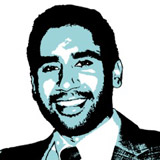 Sometimes, metal bullets create the most noise. The violent actions of a few can remind us of a history of hatred. When two Jewish centers were systematically attacked in Kansas City this past Sunday, we all were reminded of the history of anti-Semitism in our society. But a murderer's actions have no foundation when we all realize our common ground. It is our common history that should etch away any differences and bring us together.
Muslims in particular need to fight anti-Semitism wherever it may be found. For one, Israelite prophets are revered by both Jews and Muslims, and early Muslims did at first pray toward Jerusalem before praying toward the Ka'ba in Mecca. The Qur'an itself speaks about Prophet Moses a total of 136 times. No other prophet in the Qur'an is given as much attention as Moses is given. Growing up as a child, I often would hear stories from my mother about Moses' nearness to God. I was told the story of when God split the Red Sea for him and the early Jews when escaping Pharaoh's torment. Even now, before giving a speech, I am reminded of Moses' prayer to God before he confronted Pharaoh, when he asked God to "loose the knot of my tongue, that they may understand my speech." (20:26-28) Over 2,000 years later, Muslims recite these same words that Moses recited, attempting to walk in his esteemed footsteps.
Muslims also have a particular duty to stop terrorists that attack synagogues. The Qur'an clearly states that synagogues need to be protected: "If Allah did not repel some men by means of others, there would surely have been pulled down cloisters and churches and synagogues and mosques … " (22:41). Here, God requires Muslims to step up to the plate and stop those who destroy or disrupt synagogues and other houses of worship. Indeed, the Qur'an recognizes the protection of synagogues alongside mosques. The Qur'an, in fact, places more importance in the protection of synagogues than mosques by recognizing the protection of synagogues before recognizing the protection of mosques. In the eyes of God, Muslims need to protect the rights of their Jewish brethren and freedom of religion as a whole.
The suspect who opened fire at the Jewish Centers unfortunately took three lives, one being a 14-year-old boy. While the suspect's motivations were based in anti-Semitism, the individuals he killed were actually Christian. Ideologies that are based on hatred only beget hatred — a blunt tool that only injures oneself. Just as the Prophet Muhammad would celebrate Yom Kippur with his Jewish brothers by fasting along with them, society, too, needs to embrace the diversity of other beliefs. By opening our minds and seeking to understand other beliefs, we can quell the violent noise of a violent few, and remind ourselves of our commonality.