Originally published in The Star Tribune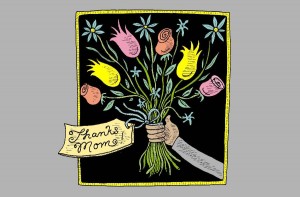 Mother's Day is approaching fast, and I haven't done anything about it yet. While there are plenty of last-minute Mother's Day sales, it's hard to find that right gift that can truly thank my mother for all that she has done for me.
Growing up, my mother would tell me that the prophet Mohammed once said that a child would never be able to fully repay his or her mother — even if that child spent all his or her life — for it would be outweighed by any single night the mother broke her sleep to attend to the crying child.
As a practicing Muslim, I am intrigued by this saying, especially because I don't enjoy the feeling of being in debt. My mom says that all she wants of me is to work hard in school and to be successful in whichever career path I choose.
Until then, these flowers will do.
Happy Mother's Day, Mom!