Originally published in Santa Barbara Independent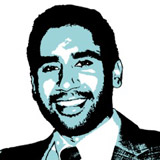 I woke up at 3:50 a.m. today. I did some prayers, ate a bowl of Honey Bunches of Oats, and did some prayers again. I will not eat any food or water until sunset around 8:20 p.m. Muslims around the world — about 1.3 billion people — are following a similar routine for 30 days for the month of Ramadan.
There is a cool serenity at 3:50 a.m. that contrasts the long, hot day. This makes sense. After all, the root word, Ramd, inRamadan means scorching heat. The body goes through a crucible that heals the body. Fasting allows the body to naturally heal itself in a controlled environment, analogous to when the body experiences a reduced appetite when ill in order to fight off the illness. Only recently have scientists and fitness experts extolled the benefits of intermittent fasting that was recognized by Islam 1,500 years ago.
But this heat isn't just physical, but a spiritual one as well. As Prophet Muhammad stated, "Ramadan has been given this name, for it burns away all sins." After all, it isn't all just about sacrificing food, as the Prophet Muhammad has also said: "the day someone of you fasts, he should not indulge in foul talk nor should he shout. And if someone abuses him or fights with him, he should simply say, 'I am fasting, I am fasting.'" It's one thing to purposefully sacrifice meals from your day, but something else to simultaneously sacrifice your ego as well. Islam attempts to create an atmosphere where you give justice not only to your body and soul but also to your fellow man.
Muslims, however, sometimes miss that point and commit injustices, nay, atrocities against their fellow man. Take the recent example of Dr. Mehdi Ali Qamar, an American cardiologist murdered in front of his wife and toddler son by a flurry of 10 bullets while on a humanitarian medical mission in Pakistan. His crime was being part of the Ahmadiyya Muslim Community, a sect of Islam that is heavily persecuted in Pakistan and other parts of the Muslim world.
Pakistani state officials have yet to comment on Dr. Qamar's death, and why would they? After all, Pakistan's blasphemy laws have made it a crime to be an Ahmadi Muslim. Ahmadi Muslims can be fined or imprisoned if they call their house of worship a mosque, if they give a traditional Muslim greeting, if they are found reading the Holy Qur'an, and if Ahmadi Muslims essentially do anything that a Muslim would do. Pakistan is persecuting a Muslim sect whose slogan is "Love for all, Hatred for none."
If Ramadan were spent just to starve our bodies, then we are missing the point. Muslims around the world need to ask themselves, are we giving justice to our fellow man? Are the governments we support doing justice to our fellow man? As I swallow my meal at 3:50 a.m., I pray that I may always be able to swallow my ego as well.